Sklo Union
Czechoslovak pressed glass is phenomenon which has emerged in our country in the early 60s.
Glass pressing using mechanical machine into metal mold began in 1830 in USA. The local glassmakers improved and speeded up the production to the level that pressed glass became available article. It is considered a cheap substitute for more expensive cut glass.
In the Czech Republic the first press appeared in Novosvetské glassworks in 1833. In following period the production expanded to other Czech glassworks. Art styles, which dominated in 60s of 19th century were Empire, Gothic, and Biedemayer. Often it was an imitation of diamond cut. Motives of plants and flowers were favorite. Only in the early 20 century the modern approach of pressed glass appeared.
A great attention was given to patterning of pressed glass, mainly by Prague Company Inwald, where they started to press very good quality and progressive glass in 20 and 30 years of 20th century.
Rudolf Schrötter is usually considered to be the first actual designer of pressed glass. He mastered the work with the press and connected artistic values with functionality. His designs were made for several decades. Schrötter is attributed with the legendary glass design "Duritka", which production has begun in 1934 and it is produced until today.
During the World War II the entire glass industry was subdued. After the war most of the glassworks were expropriated and centralized in national enterprises. Exclusive export of glass was secured by SKLOEPXPORT Company.
After the war ends, the first generation of artist who strives to improve our pressed glass comes. These designers were František Pečený, Jiři Zejmon, Miloš Filip and Adolf Matura.
Václav Hanuš joined them later.
In 1953 a thought to significantly enhance the glass production with new designs arose. A collaboration with Artistic industrial school in Prague is established. At the time Jozef Kaplický and Karel Štipl were professors who pay attention to the technique of glass pressing. In 60s and 70s a new generation of artist who passed the atelier of prof. Karl Štipl comes. Those artist were František Vízner, Vladislav Urban, Rudolf Jurnikl, Jiří Brabec, Pavel Pánek and Peter Zajíc. They brought a new approach to work with materials, shapes, optics, colors and decor itself.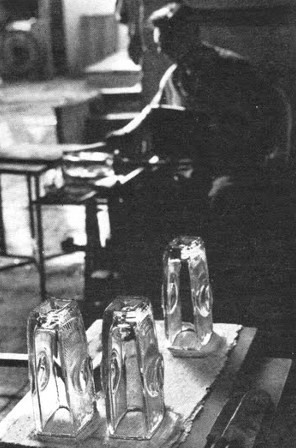 In the 60s a new generation of artists comes, including František Vízner, Vladislav Urban, Rudolf Jurnikl.
In the 60s a remarkable works, which did not imitate the previous designs were created. A thick walled pressed glass with distinctive reliefs, rotating objects, various decorations and lens effects appears. A strong designer trio Vízner – Urban – Jurnikl among others took place in the history of pressed glass with their unique designs
Overall renaissance of glass making was caused partly by prevailing communist regime. It took art as a tool to spread ideology. Functional objects were not a subject to significant political pressure and designs of functional objects were agreed without restrictions. Pressed glass remained so to speak untouched and the artists were free to create. Understandably the regime did not overlook the popularity of Czechoslovak glass and started to export abroad in bulk. In 1965 a concern company SKLO UNION was established uniting all Czech and Moravian glassworks producing pressed glass.
Glass was pressed mostly by hand. A phenomenon is that the hand press enabled greater variability. Of course there was also a fully automatic production, but it specialized on table sets.
Czechoslovak author's glass shone for the first time at EXPO 58 in Brussels, however pressed glass was represented on the subsequent exhibitions Milan 60, EXPO 67 in Montreal or EXPO 70 in Osaka.
Pressed glass is made for masses and gradually it found a way to our households. Maybe, if you look in your parents' house you come across many collectors gems.
Martin Hattas
Source: https://www.sklo-union.eu/